Hockey has a strong tradition at Foremarke with both boys' and girls' teams regularly qualifying in regional competitions to represent the school at National level, however we also very proud of the opportunities we provide for all pupils. Hockey is the major sport for girls in the Michaelmas Term where we regularly field up to six teams across our Year 7 and 8 girls, two teams at Under 11 and two at Under 10 level. At Under 9 level we offer small fixtures with local schools too, where we combine a coaching session with some small games. Similarly in the Lent term Foremarke fields senior teams across all age groups along with junior fixtures on some Saturday mornings.
We encourage all girls and boys to participate in hockey, both in and out of school. Currently we have many young players regularly experiencing local club hockey with our most talented going on to representive honours in the U13/14 Staffordshire/Derbyshire/Leicestershire JACs and then Midland JRPC development groups.
Our facilities here for hockey at Foremarke are superb; we have one floodlit astro-turf pitch on site and regularly use Repton's water based and sand based pitches for training and matches. Here at Foremarke we are dedicated to providing an all-round experience of hockey, where children encounter the delight of playing team sport for the school. Pupils' experience of hockey here is positive one and one that they will, and do, take with them to their senior school and beyond.
2018
Boys – U13 IAPS National Champions
Boys – U11 IAPS National Runners Up
Girls – U13 IAPS National Bronze Medal
Girls – U12 IAPS National Quarter Finalist
Girls – U11 IAPS National Quarter Finalist
2017
Girls – U13 IAPS National Finals Bronze Medal
Girls – U12 IAPS Runners Up
2016
Girls – U13 IAPS National Champions
Girls – U12 IAPS Runners Up
2015
Boys – U13 IAPS Runner's Up
Girls – U13 IAPS NATIONAL CHAMPIONS
Girls – U12 IAPS Bronze Medal
Girls U11 National Finalists
2014
Boys U11 National Finals – Runners up, U13 National Finals – Plate Winners
Girls – U11 IAPS NATIONAL CHAMPIONS U13 IAPS National Quarter Finals
2013
Boys – U11 IAPS NATIONAL CHAMPIONS
Girls U12 – IAPS National Finals – 4th Place
2012
U13 Girls IAPS Nationals – 3rd place
U13 Boys IAPS National FInalists
2011
U13 Girls IAPS National Finalists
U12 Girls IAPS National Finalist
U11 Girls IAPS National Finalist
U11 Boys IAPS National Finalists
2010
U11 Girls IAPS National Runners up
U13 Girls IAPS National Finalists
U11 Boys IAPS National Finalist
U13 Boys IAPS National Finalist
A Little About our Head of Hockey, Mr Russell Anderson
Mr Anderson is a member of the Scottish men's hockey squad and also plays in the National League for Premiership club Cannock Men's 1st team.
He started playing hockey at Chester Hockey Club and then went on to play for the University of Chester 1st XI, captaining the 1st XI University side in his final year.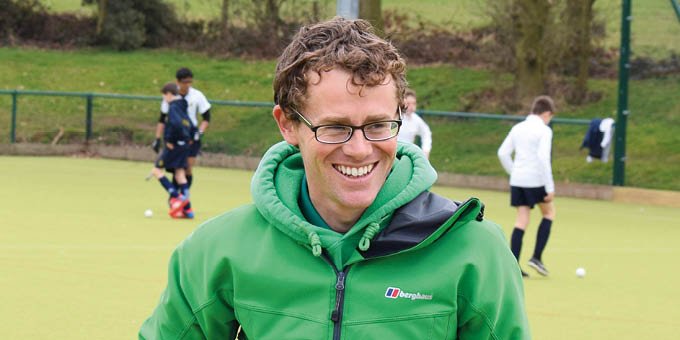 In 2006 Mr Anderson moved to join the mighty Brooklands Manchester University Hockey Club and in his first year achieved the most improved player for the 1st XI and was part of the team to be promoted to National League One and subsequently to the Premiership.
Since 2010 he has trained with the Scotland hockey team received his first cap against Ireland in the Celtic Cup Competition and now has over 25 International caps with his most memorable game being against the world champions Germany in 2012.
As a coach he has trained teams at Christleton High School, Kings High School, University of Chester, Chester Hockey Club and the North West JDC/JAC Junior Development. He now plays for Cannock Hockey Club in the National Premiership.
He joined Foremarke in 2010 and currently coaches all the boys hockey teams at Foremarke plus the girls 1st V11 team.
His U11 boys team won the IAPS National Finals last year , and the girls 1st X11 qualified for the National Finals.
Hockey continues to go from strength to strength with many of our players also gaining valuable experience at local clubs such as Beeston and Burton Hockey Club.