Saturday evening was a celebration of our Year 8 boarders finishing their exams. A beautiful summer evening was a perfect time for a special BBQ on front green. Fun was had by all. Our bellies were full of delicious sausages and burgers. It was then a good idea for a mass water fight with our new squirters. We all got absolutely soaked and ensured that all the gappers and Mr Anderson were soaked with water.  Mr Casey and Mr Kelly also joined in on the attack!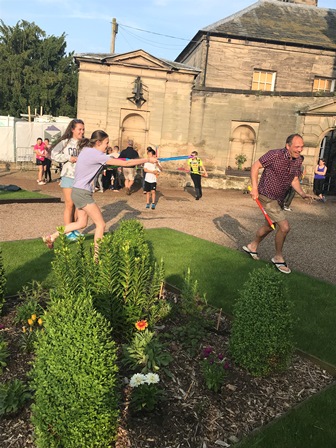 On Sunday morning, a much more sedate breakfast in our "onesies" was needed. With another busy day ahead of us, we went in the pool, where we came across a large pink flamingo and a rather large piece of pizza. We had a great time jumping on all of the inflatables.
A nice hot roast chicken lunch was served and this gave us the energy to try some roller skating in the afternoon. For some of us, this was very tricky. However perseverance prevailed and we all got pretty good at it. The atmosphere was great and we all had a fun disco time.
Back to Foremake for a relax in the sunshine before going to church.
We wish all our Year 5, 6 and 7 boarders the best of luck in their exams this week. We also wish our Year 8 fun on their trip to wales this week.
Mrs Casey