We woke up on Sunday morning to find everywhere covered in thick snow, to everyone's great excitement!
The staff have never seen the tables cleared so quickly after breakfast…
We all wrapped up warm in coats and hats and then headed straight out to build snowmen, make snow angels, throw snowballs and admire the school looking absolutely stunning in the snow.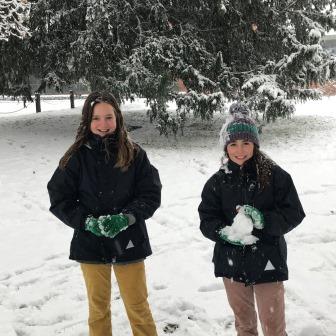 We all had great fun! Afterwards we headed in to warm up before a lovely roast Sunday lunch. The Panto of 'Jack and the Beanstalk' at the theatre (our planned trip for the afternoon) had been cancelled due to weather conditions, so we put the sports hall and swimming pool to good use. Mr Hill and Mr Wilkinson ran indoor football and other sports hall games whilst Mrs Buckingham ran a fun swim session. Everyone enjoyed watching a film in the theatre after that.
With the Carol service at St Saviour's also cancelled due to the weather, we had tea and then the children were delighted to find that after all the cancellations of the day, tuck was up and running. Everyone enjoyed some time to relax back in houses and keeping snug under duvets seemed to be the order of the evening. JH.