As the weather warmed up it was time to chill a bit after a busy Saturday braving the last ravages of the 'Beast from the East' combined with the howling winds of 'Storm Emma'.
After a fantastic breakfast offering a huge array of choices from cereals to cooked foods all the hardy boarders who hadn't escaped campus left the grounds for the first time by vehicle to take part in a combined service at Repton Chapel.  We were warmly welcomed by Father Neil Roberts and joined by other Foremarkians from the Chamber Choir.  We all managed to cope very well with the curve ball of a Latin anthem and enjoyed a stimulating service of familiar hymns, new prayers and an inspiring sermon by Father Neil delivered very articulately without any notes.  We briefly met with a few ex-pupils and one or two older siblings before hopping back on the minibuses to return through the slushy lanes to Foremarke.
After a brief interval to get changed and relax it was back to the dining room for our second excellent meal of the day – a roast or vegetarian lasagne with all the trimmings.  A filling pudding was justified due to the last remnants of the cold snap!
After lunch one group enjoyed making floral decorations in the art room for the Dining Hall, whilst another enjoyed an energetic game of basketball in the sports hall.  There were lots of near misses and several fantastically skilful shots that actually went through the hoop.  One team seemed to win although the score itself didn't seem to matter.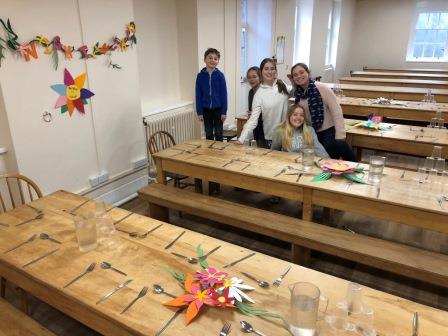 The rest of the afternoon was spent pleasantly hanging out and relaxing with electronic gadgets a plenty, conversation and T.V.
The day ended with a third and final foray into the dining room for another delicious 'McForemarke' feast.
Overall a fun Sunday incorporating faith, food & friendship.
Mr Wells.