We are a highly qualified and experienced medical team consisting of two Registered Nurses and a Medical Assistant. The team are on hand during term-time from 0800-1800 (Monday, Tuesday, Thursday and Friday), until 1700 Wed, and 1600 Saturday.
We provide individualised, holistic care for pupils. Health promotion within the school as a whole is a priority of the team.
Our fully-equipped medical centre is located in a separate bungalow on campus. A previous ISI Report stated that "Pupils who are ill or injured receive immediate care in homely surroundings, looked after by a team of well-qualified Nursing staff". We have provision for separate gender sleeping arrangements, a large living and dining room, as well as a separate office and treatment room.
Pupils with a variety of chronic conditions are cared for in every aspect in close conjunction with parents and teachers. Boarders especially build a close relationship with us. Close links with the boarding team ensure a seamless approach to the child's health and well-being.
Those children who register with the local GP practice also have access to a weekly surgery held by the GP at school. Any additional appointments, including hospital, opticians, and dental visits can also be arranged.
About the National Health Service (NHS)
In the United Kingdom health care is provided by the National Health Service (NHS). This is the system in the UK that provides free medical care for everyone. The care includes all emergency treatment, dental treatments, medical prescriptions, eye tests, and spectacles. The care is excellent, particularly for children.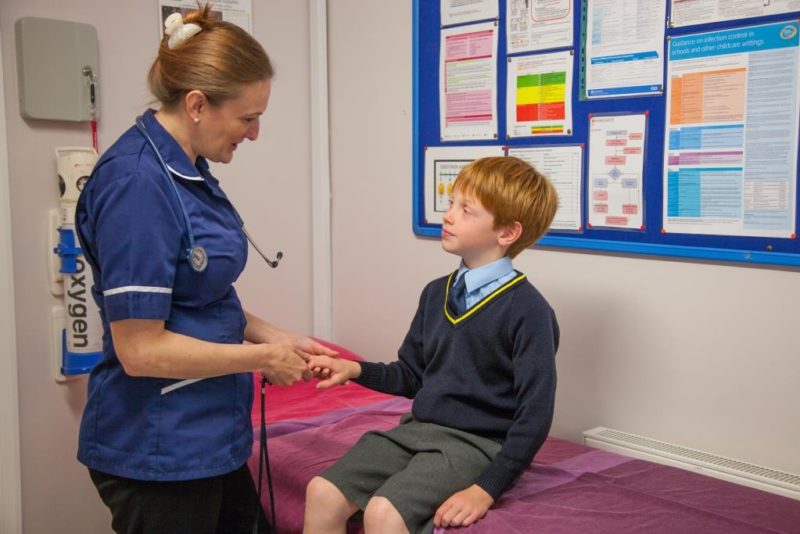 As an overseas pupil at Foremarke children will be entitled to free medical cover by the NHS but there is also an option to subscribe to additional private health and dental policies.
British patients are generally assessed by nursing staff and referred to a GP if deemed necessary. When children start at Foremarke, the Nurse will register them with the local Doctor (General Practitioner, a.k.a. the GP). They will then be provided with an NHS number entitling them to their free healthcare. The GP will then give necessary medical treatment and advice. He will also issue medical prescriptions and refer for specialist treatment if necessary.
If parents wish to discuss any aspect of their child's care please feel free to contact the Medical Centre directly on 01283707109 or email surgery@foremarke.org.uk