French is taught by a dedicated team of enthusiastic and highly qualified specialists who create a very positive learning environment from Year 1 to Year 8. We work hard to achieve continuity throughout the school. The introduction of a foreign language to children of a young age enables them to experience something of the joy of another culture and language at a time when they are most receptive and responsive.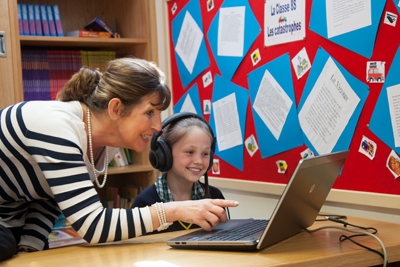 In the earlier years (Years 1 and 2) there is specific emphasis upon speaking French using games and songs, whilst still encouraging the children to read and write single words and phrases.  Their learning is closely linked to learning about France and the French via interactive software. This serves to boost enjoyment and encourage the pupils to correctly imitate the sounds of the language. All pupils in pre-prep are taught by a native speaker.
As the pupils move into Years 3 and 4 the emphasis remains on the oral and aural skills but these are supplemented by reading and writing.  Simple grammatical concepts are introduced using exciting interactive software which makes these concepts accessible to all.
In Years 5 – 8 equal weight is given to the four Attainment Targets (speaking, reading, listening, writing) as the pupils prepare for external exams at 13+.
It is expected that teaching methodology will vary in order to be effective for each of the children.  This will mean catering for visual, auditory and  kinaesthetic learning styles as well as creating a positive, challenging and rewarding environment. All pupils benefit, at least once a week, from the use of the new language lab facility featuring Sanako software accessible individually through the 20 laptop computers.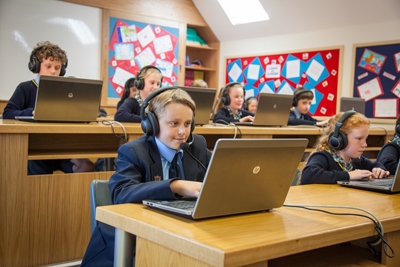 This enables differentiated speaking and listening, allows the pupils to communicate in groups, pairs or directly with a teacher and also gives access to the very wide variety of opportunity for learning languages available on the internet.
Pupils in Years 5 and 6 are encouraged to participate in a school visit to France in August where 5 days of activities are undertaken completely in French – a very enjoyable and rewarding experience for all.